ATTENTION Back Pain Sufferer!
FREE…Spinal Decompression Seminar
For A Back That Last's A Lifetime!
Here's What You'll Discover In This Online Seminar:
How to quickly eliminate your neck pain, back pain, or leg pain.
What is working and what is not working in the treatment of back pain today.
How to fix your problem without drugs or surgery.
Online Seminar: Takes Place Over The Next 3 Days.
Click HERE To Reserve Your Seat Now.
See What Spinal Decompression Can Do For You:
HERE IS WHAT OUR PATIENTS SAY ABOUT SPINAL DECOMPRESSION:
• "Being pain free is an absolute God-send!" Timothy Sutton could only stand for 1 to 2 hours, could not put his socks on in the morning, and could not perform simple chores around the house. "There was a day that I thought that surgery was my only option. Thank God I tried Spinal Decompression! Now I can keep my job because I am able to stand for 12 hours, I can put my socks on by myself, and I can finally help my wife around the house! I no longer feel like a broken down man when I get home from work, my quality of life is MUCH better, and I have been given a new lease on life!" –Tim Sutton Marion, OH.
• "I rate it a 100!" Donald Smith states that he had a "very, very good experience". "I can get around a lot better without pain and I really feel great! I would recommend it to anyone with back trouble". –Donald Smith Marion, OH.
• "Pain Free! In the last 5 and 1/2 years, I have had surgery on my back, had spinal injections, and had been taking several medications for my pain. I was in so much pain that I did not want to go on living with the pain. After doing Spinal Decompression therapy, I am no longer taking pain pills, I can spend time with my family, and am much more pleasant to be around. I feel like a new man, and I can actually get out of bed every morning without being in pain." –Robert Martin Bucyrus, OH.
• "I am able to enjoy life with my family with a quality I never thought possible. I am 34 years old and I felt like life was over for me. I suffered from pain, stiffness, tingling and numbness, from the base of my skull to the middle of my back. Since I tried Spinal Decompression therapy, I no longer have headaches, pain, stiffness, or insufferable moods. I am completely off all medications and am free to enjoy life with my family". –Heather Triplett Marion, OH.
• "Without back pain, I have an overall better quality of life! The DTS Spinal Decompression treatments were able to relieve my back and leg pain, which was most painful in the beginning." –JoAnna Fields Richwood, OH.
• "I find the thoroughness of the Spinal Decompression program to be very beneficial. I have had improvement in posture, strength, chewing and swallowing. I am able to perform my household tasks much easier and walking has become much less painful. I used to choke while eating and I no longer do that!" –Carolyn Hickle Marion, OH.
• "None of the "usual" medical treatments worked for my low back and hip pain. I thought that surgery was my only answer to my pain. After learning about Spinal Decompression therapy, I had hope. In my first week of treatment, I had significant lessening of back spasms (spasms that would literally throw me into furniture). I have now experienced improvement in overall relief of pain and am able to stand longer. I'm sure that I could do housework better, if I could just get myself to do it!" –JoAnne Decker Marion, OH.
• "My 4 year old grandchild couldn't even sit on my lap because I was in so much pain. Before Spinal Decompression, I was told to learn to live with the pain. It was easy for my doctor to say that because he wasn't the one in pain. Now, after Spinal Decompression, I can do things that I never thought I would ever be able to do again. My grandson can now sit on my lap and I can even ride bikes with him and that is the greatest feeling in the world. Also, I can get out of bed without pain pills and I can wake up knowing that I won't have pain!" –Mary Griffith Marion, OH.
• "My pain was so intense that I had trouble walking to my desk or my car 200 feet away. Walking to the third floor of my office building was out of the question. I was no longer able to do the aerobic classes that I had participated in for better than 12 years, work in my flower beds, clean my house, enjoy a day of shopping, and most importantly, lift my 1 year old grandson! I tried numerous ways to correct the problem including yoga, pilates, bed rest and pain management that only offered me prescription drugs. None of them worked. Now after Spinal Decompression therapy, I can gradually return to what I need to do, being a self reliant, active, baby –Karen Lanius Marion, OH.
• "I could hardly get out of my car at the end of my work day! I had a bulging disc and I felt like I was ninety years old! I could not even turn over in bed at night without moaning in pain. I thought I was going to have to change my job due to the physical nature of my job, and I could feel myself getting worse and worse. All that has changed. After Spinal Decompression therapy, I feel 100% better, I've gotten rid of the awful pain, and I guess I'll be at my job for another eighteen years!" –Marilyn DesJardins Marion, OH.
• "August 29th,2007 was my first day on the spinal decompression bed. The staff at the Ohio Neck and Back Pain Relief Centers were very friendly and courteous. The treatment on the DTS gave me the most relief. The fact that the pain is moving around shows me that something has been accomplished. Now I am able to rest more and move around in bed without fear of not getting up." –Lloyd Klingel–
• "I first became a patient on the spinal decompression table July of 2007. I Think this practice is excellent and I am very satisfied with the care that I received. I wasn't able to play golf or drive so it made me extremely happy when I was able to do those things again. Dr. Scot and Seth are excellent in there profession and the staff is very friendly and super nice. – Don Hayes–
• "I became a patient in late May 07. The office was very prompt courteous and accommodating if you have to change an appointment. I was very happy with the way that they care about you as a person. My back feels a 100% better now and I can walk like a normal person. –James Fisher
• "I started the spinal decompression table about the end of April a few months after an automobile accident. Everyone is very polite and helpful. I got lots of positive feed back which helped me through the tough times. With the therapy I received my pain is 98% gone. I can actually walk and move without being doubled up in pain and muscle spasms. I was able to return to work in a short amount of time without the surgery they were contemplating." –Calvin Berry–
• "May 2006 I read about it in the paper, called and they got me scheduled the next day. I am feeling so much better and I'm glad I took the time to come in to the office. The staff was very friendly. I can now do a lot more in my daily work without much pain." –Ruth Leibold–
• "Early June 2006 is when I started the spinal decompression table. I am very impressed with the people who work here. They are always friendly and pleasant. The office is run very efficient. The whole treatment program has made me happy because I have improved greatly since the beginning of it. The exercises have helped a lot in my treatments even though I get a little sore from them. I usually improve as long as I do the exercises consistently. I have gradually improved over the last 5 weeks so much I find myself taking less medication for pain." – Teresa Russell–
• "June 6 ,2006 I became a patient. The staff was very pleasant, friendly, concerned about welfare of the patients. They are always willing to work with the patients Schedule. I am motivated a lot more. I am able to walk further distances. Also my pain is less than when the treatments was started. I can ride in a car for longer distances." –Frankie Daily–
• "I first became a patient June 8,2006. I really like the cheerful, caring staff as well as the knowledge and the feeling of being a part of one big family. When I was told that I qualified for the triton DTS therapy I would have jumped with joy if I could have because I felt I had found something that would work to relieve or possible eliminate my server leg pain. And guess what. The pain is completely gone along with the numbness. No I know that I will be able to lead a normal pain free life which I haven't been able to do for several years." –Phyllis Rawlings–
Important facts to know if you have disc degeneration, herniations, bulges, or sciatica, that you probably aren't aware of:
If you have disc degeneration/herniation/bulges or sciatica, you are not alone. Statistics show that at least 85% of adults have had a significant bout with back pain at some point in their life. Most people who have disc problems have back and/or leg problems. Whether it's difficulty with work, the embarrassment of how you look when you walk, pain upon any movement or the loss of your ability to do the things you love.
More recently, modern technology has offered us more options for treating severe disc problems, many incorporating spinal decompression therapy. There is chiropractic, physical therapy, spinal decompression, acupuncture, medication, surgery, etc. With so many options available today how does one know where to go, who to trust or what to choose? Here's the good news- local chiropractors Dr. Scot Gray and Dr David Tharp, both chiropractors in Marion, Ohio, now offer an online seminar you can attend over the next 3 days. This 25 minute online seminar includes a multi-media presentations with educational video and photos designed to teach all the latest state of the art back and leg pain relief solutions available today.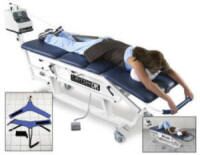 You will learn about DTS Spinal Decompression Therapy the latest in disc herniation and disc degeneration repair is the latest "space age" technology to FIX your disc problem for a fraction of the cost or risk of spinal surgery. It's safer, longer lasting, and a quicker solution. Because of our superior record of success, we offer the most successful treatment option available. This program is designed to give our patients the added security of knowing only the finest products and US made machines are used.
Some of the topics covered are: causes of spinal degeneration, the domino effect, why back and neck problems can make you look older, relation of disc degeneration to total disability, how spinal decompression works, why spinal surgery has a lower success rate and much more. A lively Question Answering session follows, with Dr Scot answering questions ranging from general back and neck pain topics to specific concerns that most of our patients have had in the past.
Click HERE To Reserve Your Seat Today!
(The seminar will be presented over the next 3 days. Grab your online seat before they are gone. We have limited online seminar attendee access).